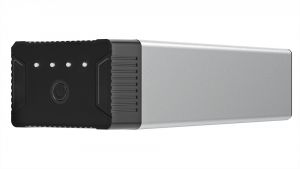 Ablelin Store Fixtures Corp.
KwikBoost EdgePower™ Rechargeable Battery
Enjoy convenient cordless charging of mobile devices. The KwikBoost EdgePower™ desktop charging station system is a total solution for laptops and mobile devices in workspace and classroom environments. EdgePower eliminates extension cords by putting power right where you need it.
Featuring enough power to fully charge a typical laptop up to 2 times, a standard Chromebook or tablet up to 4 times, and an average smartphone up to 14 times, the EdgePower's Rechargeable Battery provides hours of uninterrupted productivity. When it's time for a recharge, simply swap it out with another Rechargeable Battery and keep working.
To create a complete system, the Rechargeable Battery requires a KwikBoost EdgePower Clamp-On Desktop Charging Unit. You also need your choice of a Single Battery Charger, 3-Bay Base Charging Station, or 9-Bay Base Charging Station (sold separately or in bundles).
Features:
This rechargeable power bank works with an EdgePower portable charging station system
EdgePower eliminates the need for extension cords and power strips, which are inconvenient, unsightly, and a potential trip hazard
A single EdgePower Rechargeable Battery can charge a typical laptop up to 2 times, an average smartphone up to 14 times, and a standard tablet up to 4 times
The Rechargeable Battery is easily interchangeable, allowing for uninterrupted use
Indicator lights keep you informed of charge level
On/Off switch activates the indicator lights
One-year limited warranty from date of purchase
Specifications:
Overall dimensions: 9.1" D x 3.0" W x 2.1" H
Capacity: 146.52Wh (18 cells)
Cell type: 18650 Li-ion battery (2200mAh at 3.7V)
Life cycles: 500 times (at higher than 80% of the initial capacity)
Shelf life: 1 year after first charge
Battery shipping classifications: UN 3480
Battery cell recharge time: 2 hours
Input protection: Charging overflow protection, charging circuit protection
---
Share this Product
---
More from this collection